Professional graphics digital cutting system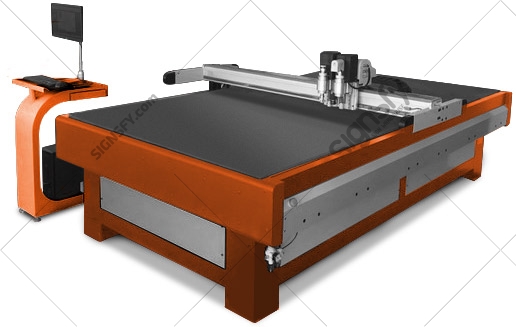 The state of the art SID Katana 2513 Digital Flatbed Cutter will streamline your graphic display finishing, packaging and POP production. With a maximum 1,200mm/sec, the USA manufactured high-end four axis motion control system guarantees precision with a cutting tolerance of 0.039" (1mm).
Its Panasonic servo motor and single drive, linear guideway, synchronized belt and lead screw, together with its innovative automatic maintenance systems, provide the reliability needed for high volume industrial production.
To ensure accurate contour cutting, the Katana includes an integrated CCD digital camera, a powerful vacuum table and a unique global intelligent deviation correction system.
Its quiet operation, infrared safety sensor and fast transmission of data provide an ideal working environment for cutting corrugated plastic, PVC, cardboard, foamboard, styrene, honeycomb boards, leather, carpet, adhesive vinyl, paper, fabrics, etc. in an ample 51" x 98.4" (1300 × 2500 mm) cutting area.
SID Katana 2513 | Digital Flatbed Cutter